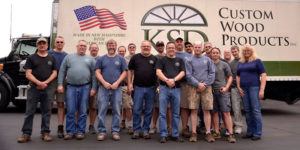 To be a successful business in any industry, it takes hard work, a team of talented individuals, great customer service, and a top quality product. For 28 years, KSD Custom Wood Products, INC has used those ingredients for success to become the leader in custom wood solutions for the Northeast.
With a vision for designing and a passion for hand-crafted wood products, Kim Doubleday started KSD Custom Wood Products in 1989. From its humble beginnings in Kim's garage, KSD Custom Wood Products originally specialized in hand-crafted architectural windows and doors. Through hard work, expert craftsmanship, and a thorough knowledge of the industry, the simple garage business has grown to a 40,000 square foot facility that employs over 30 skilled craftsmen.
Over the years, KSD Custom Wood Products has helped a number of clients with finding the best solutions for their architectural windows and doors. KSD Custom Wood Products has worked on the homes of many public figures, ranging from the NFL Commissioner to the owners of Priceline.com and many other known celebrities. To date, their largest client is Harvard University. KSD Custom Wood Products has helped historically reproduce many of the university's windows and doors on their most historic buildings, with their first project together dating back to 1992. This long lasting relationship between Harvard and KSD Custom Wood Products is a testament to the business' hard work and expert services. Additional projects for KSD include The Lawrenceville School, Princeton University, and much more.
With such a longstanding tradition of success, KSD Custom Wood Products is looking to expand their team to individuals who are experienced, believe in hard work, and put passion into everything that they do. The following positions are available:
Manufacturing/Woodworking
Glass Department: Manufacturing high-quality Insulated Glass
Product Fit up: Responsible for setting up sashes and doors into their perspective frames & installing hardware
Finish Department- Spraying and Hand Painting of our windows and doors
Auto CAD Designer
CNC Programmer
While experience is preferred, KSD is willing to train the right person if need be. For those interested in applying, please visit the KSD facility in person or email President Kim Doubleday at kdoubleday@ksdcwp.com
As KSD Custom Wood Products is seeing their busiest year yet and expanding their team further, the future is truly bright for what this company can achieve. If you are interested in learning more about KSD Custom Wood Products and how they can help you, feel free to contact them.