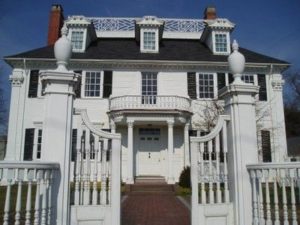 If you are already the proud owner of an older, historic home, then you are familiar with the unique set of challenges that you are faced with maintaining that property. Living in a piece of history may feel like living in a time capsule. Owners of historic homes who want to update their house are faced with a different set of obstacles and guidelines than those with more modern, 21st-century homes. From specific exterior paint colors to differences in structural and plumbing facilities, historical homeownership can get tricky. That is why many people ask the question, "Which is better, a renovation or a restoration".
This question often tricks many people because they fail to understand the difference between restoration and renovation.  They are actually opposite terms. Restoration is returning a structure to its former condition. This can be as simple as fixing a hole in the wall to putting in historic reproduction doors that are reminiscent of the house's place in history. On the other hand, to renovate means to make something brand new. Adding all new fixtures, doors, and windows or updating appliances is considered a renovation.
Below are a few ideas to consider before jumping headfirst into an expensive decision that is incorrect for your needs.
Review Your Home's History
Owning an older home is exciting, especially if you're a history buff.  Many people live in a historic home without knowing its historical significance. Was it a meeting hall for the town or banquet hall for nobles? Did an important event occur in your home? Who previously owned it? Consider researching the history of the home before beginning any changes. The original purpose of the building may serve as a jumping off point for creative ideas and inspirations about how to design your home. While researching, you may learn about the different styles of designs for doors and windows that were indicative of the time. Pay attention to these details as this can help you determine if you want to restore those portions of the house to reflect the history or if you want to renovate instead. Check with your local Historical Society for help.
Evaluate Existing Changes
When thinking about your own design changes, consider any previous changes or remodels to your home that have been done before you moved in. As you research the original condition of your home, you may find that unexpected changes and updates were made to the structure. This can greatly affect what you may be able to do going forward.  Thoroughly research the importance of certain design elements and placements of items like doors and pillars, which could greatly affect the integrity of the home.
Preserve the History
Choosing to live in a historic home means you have signed on to preserve a piece of history.  That is why it is important to understand that any changes made to your home need to preserve the history of the home. Matching the doors and windows can be one of the most challenging aspects to fixing up older homes, but it is one of the most important design elements. Finding matching or complementary historic reproduction doors can help elevate any new additions or changes made to the home.  Updates made to the home should not take away from the history of the home, but instead should be a story of transformation from the original time period to the time of the new updateNever falsify the history of your home.
Historic homeownership is rewarding yet challenging. You are living in a piece of history and can help preserve a legacy while creating your own. Be smart about the changes you need to make. For more help or information about custom wood solutions and historical restorations, be sure to follow our blog or check out our website.