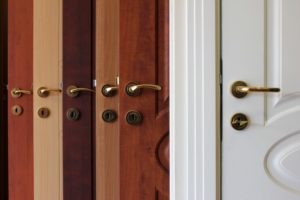 Some people say it's the windows, while others say it's the lawn, but truth be told, your front door sets the tone for a visitor's first impression.  It makes a statement about your design taste, what visitors can expect to see inside, most importantly, can increase the value of your home through improving curb appeal. Yes, a lot of weight is placed on the front door. This makes the decision much more difficult when choosing your front door design, something with character that's built to last. Wood is still considered the most desirable material for a home.
There are plenty of different materials from which you can choose. For instance, wood, fiberglass composite, and steel are the most common materials used for front doors. But let's skip ahead and say that you have completely decided on going with wood. Well, for starters, great choice. Secondly, you still have some deciding to do in regards to which wood you would like to choose, and trust us, all woods are not created equal. It's important to keep this in mind when selecting the right front door for you.  We suggest going with a Mahogany door, South American, African Mahogany, Sapele Mahogany, or a Quartered White Oak door. Below we have highlighted the best features and benefits of each.
South American Mahogany
South American Mahogany wood is best known for its decay resistance, durability, and stability for both Exterior and Interior use.  For this reason, many craftsmen choose to work with South American Mahogany wood over most other types. However, South American Mahogany wood can often times be difficult to acquire, making it relatively expensive due to a constant high demand. Nevertheless, if you choose to go with this species, you're making an excellent choice. With the proper finish applied, South American Mahogany can easily resist and withstand the exterior elements.
African and Sapele Mahogany
African Mahogany and Sapele Mahogany are highly sought after woods and are both versatile woods readily available on the market today. Its natural look paired with its durability makes it a unique yet excellent choice to add the finishing details to your entryway. African and Sapele Mahogany can easily absorb finishes, making it perfect to stain and or paint whatever color you prefer. Mahogany will last for generations given the proper finishes applied.
Oak
Another beautiful wood for front doors is Oak. Oak is durable, beautiful, and resistant. Because it has such a great texture and density, it's also perfect for painting.  It does come in a couple of beautiful colors such as red oak, and white oak both in plain sawn, rift sawn and quarter sawn to name a few.
So we ask the question, when choosing the right front door, would wood work for you? If the answer is yes, be sure to check out our website for more information on custom wood products. If the answer is no, well, check us out anyway. You may be inspired and change your mind